Floatation History
1954 a neuroscientist named John C. Lilly needed to eliminate incoming sensory information to create a control group for his experiments. He ended up discovering that sensory deprivation has a load of benefits that far superseded whatever wild experiments he was doing. By the 1970's, the tank's design had evolved from Lilly's original laboratory chambers to the comfortable commercial tanks that we have now.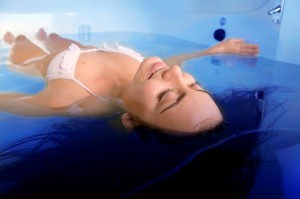 An isolation tank, originally called a sensory deprivation tank (also known as float tank, flotation tank or sensory attenuation tank) is a lightless, soundproof tank with high epsom salt (magnesium sulphate) content filled with salt water at skin temperature, in which individuals float.
Floatation deprivation therapy is based on a scientific approach to deep relaxation called Restricted Environmental Stimulation Technique or R.E.S.T. for short. The idea was developed in 1954 at NIMH (National Institute of Mental Health) in Washington. Floating in a floatation tank triggers a deep relaxation response, much deeper than normal sleep. It enables us to drift into the elusive Theta state, which is hard to achieve.
Floatation REST has many physical and mental benefits because it provides an unparalleled level of relaxation. With the elimination of external stimuli, the central nervous system's workload is reduced by as much as 90%. This reduction draws a person's energy inward and promotes relaxation–also known as the parasympathetic response. The parasympathetic response is the mechanism by which the body naturally regenerates itself and maintains chemical and metabolic balance. Old wounds and injuries are allowed to heal faster. Increased T-cell production strengthens the immune system. This deep level of relaxation also benefits the cardiovascular system. Known as the vasodilatory effect, the body's circulation is increased while the blood pressure and heart rate are reduced. Furthermore, the elimination of gravity on the body allows muscles and joints to release tension and heal more rapidly. For this reason, people suffering from musculoskeletal and rheumatic conditions greatly benefit from Floatation REST.